If you haven't heard about a profession in which all you have to do is donate sperm and get paid for it, then you aren't alone. As Ayushmann Khurrana (Vicky Arora) settles for a job that helps him make a lot more than just make ends meet by donating his highly fertile semen, people around him roll their eyes in surprise and cringe in horror by just hearing the word 'sperm'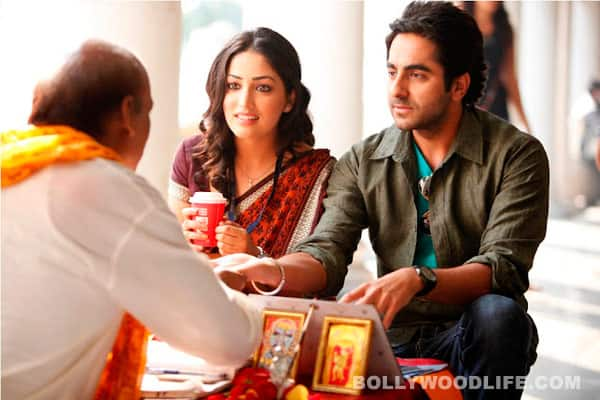 Of course, this represents our parochial mindset to a certain extent, treating an innocuous and selfless job like some terrible taboo. But what's really good about Vicky Donor is the fact that it conveys a serious message without sermonising, which is why we thought it would be perfectly apt to label VD as a light-hearted commercial satire that conveys a message in a subtle manner by lacing a random concept like sperm donation with a humorous treatment and copious amounts of hard-hitting punches and one-liners.
So as Ayushmann (Vicky) rakishly rakes in the moolah by helping infertile couples have their own progeny, in the process he bumps into Yami Gautam (Ashima Roy), a Bengali, a banker by profession. And despite the fact that the two initially seem such a misfit as a couple, they eventually end up developing an enviable chemistry. The unusual pairing of a bindaas butter chicken-eating guy and a self-possessed fish-loving Bong girl is wonderfully portrayed.
The first half of the film comprises a hilarious representation of Delhiites, highlighting their ardent need to incorporate slang into every sentence they utter and the way they stow away delectable gastronomical delights like deep fried pakoras and kachoris that don't ever turn their stomachs, come what may! We like the way the frivolous fluff slowly takes a much serious route once the protagonist Ayushmann gets married to his Bong sweetheart Yami. And trying to resolve the tense situation is Annu Kapoor who plays an astute infertility doctor in the film and who also takes the cake according to us, simply 'coz he makes us crack up every time he twitches his fingers in order to explain sperm or just talk about it.
Of the many interesting characters, the one that really makes us grin from ear to ear is the old lady who plays Ayushmann's mod grandmom. She drinks alcohol like no one's watching, gets disappointed when her grandson gets an iPhone with a 16GB capacity rather than one with 32GB storage and mouths expletives in an amusingly unladylike manner.
The movie ends on a sentimental note, transforming Ayushmann from a young man with a devil-may-care attitude to someone who's learned his lessons the hard way after discovering his own wife (Yami) isn't capable of conceiving. Amazed to find out about the kind of happiness he's bought into the lives of a number of families, Khurana gradually changes from Vicky Donor with fertile sperm to Vicky Donor with a sensitive heart…You have to see for yourself.
And then see the whole issue of sperm donation in an entirely new light!