Kangna Ranaut goes nude for Maxim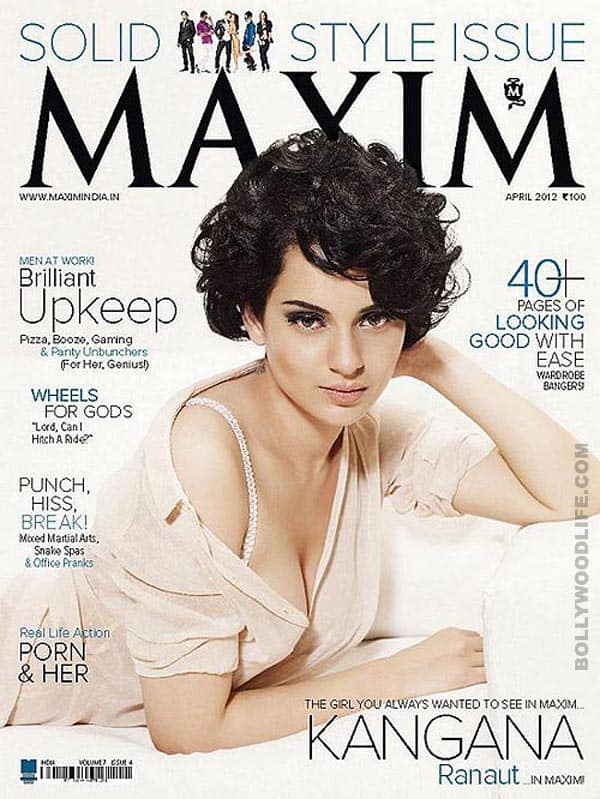 Quote:
The Tezz actor once again broke fashion rules when she posed for the cover of the international men's magazine. We think the sandy colour suits Kangy!
Right from her early days in B-town to the present times, with every passing do, film and cover, Kangna Ranaut has outshone herself when it comes to fashion. Her style sense oscillates from chic to bohemian to classy. The Himachali babe follows no rules or stereotypes, yet emerges a winner – almost every time!
Once again, she has twisted and turned the norms of a cover picture – for international men's magazine Maxim's Indian edition. Rather than dressing in bare minimum, which most women have no qualms in doing for such shoots, Kangna chose a less bold, but equally sexy route to make her cover stand out.
We love everything about this image – from her carefully styled unruly mop top to her nude makeup to her sand-coloured sheer shirt. And, of course, just the right bit of cleavage show for a tease! We like it that Kangy didn't opt for the boring black or some vibrant colours to brighten the cover up. Sometimes pale is good, and if it's the fair-skinned Kangy, we think it's absolutely okay to go sandy. Especially in the Indian summer!